The Portuguese Route
We are refering us to the Saint James pilgrimage from Portugal, who already and probably existed at the medieval times. Bridges, rurals chapels, sanctuaries, crossroads, pazos and historic cities succeded them all along the Road, giving birth to the rivers banks Miño, in Tui, to finish before the Saint James´s sepulcre. The Portuguese Route in Galicia is crossed by notables monuments with strong cultural realities going far away the achitecture, representing a privileged space for walking with horses with friends.
If the pilgrim desires, the Portuguese Route is also available from Braga.
Tui presents the entrance point of the Portuguese in Galice. From A Ponte das Febres two options are possible : continue the way surging in front of the bridge, a difficult pass in winter, or take the link way, doing a little deviation, both arriving to A Madalena.
Following the roman route, we join the N 550, at the level of Vilavella à Redondela.´s convent. A Redondela the Route crosses the middle of the city, where we can observe an historic inn of the XVI century called " Casa da Torre ", one of the principals inn on the Portuguese Route.
After Redondela, passing the railway, the Route continues in the direction of Soutoxusto. Circling by pines, we descens until Setefontes and cross Arcade, known for its delicious river products , that we will taste.
After the degustation , we will arrive at the historic Pontesampaio : the Route crosses the river Verdugo by the bridge where, during the Independance War, took place one of the main losses for the napolenian army in Galicia, from hands local population.
The Route lives Pontevedra by la Rua da Santiña. Leaving on the right chestnuts trees, it continues parallel to the railway until Pontecabras, and finishes between pines and eupcaliptus, the church and the rectorat of Santa Maria de Alba.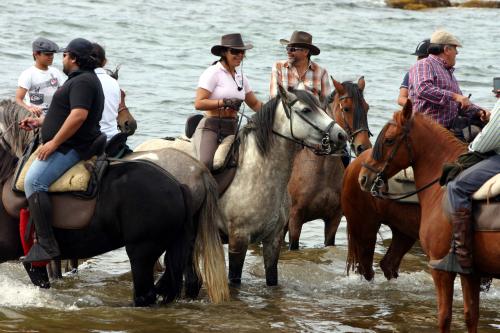 From here the Route continues by Casal de Eirixio and O Pino, and meets deep forest between white waters and old mills. In Solleiros mill, it turns, rejoins Volga, following until Padron, in A Coruña.
The pilgrim can make a pause in Santiaguiño do Monte, which has a charming view, and a chapel dedicated to Santiago and an altar with the pictur of Santiago in one of the stones.
In Santiago, the itinerary enters O Obradeiro ,where we can appreciate the principal entry of the Saint James basilique, accessing to the Portique de la Gloria. Another access possibility inside the basilique, the prefered by the pilgrims is to follow the street Fonseca, along the méridional wing of Claustro, until the place of As Praterias, situated at the cathedral entrance.
After the cathedral visit and its proximities, we will transport you to the Airport or corresponding stations, where our services will finish.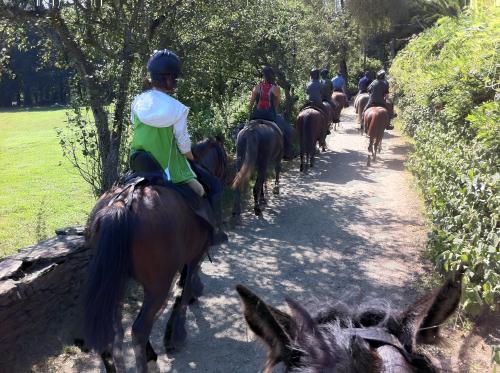 Tui se presenta como punto de arranque del Camino Portugués en Galicia.Pasando a Ponte das Febres se presentan dos opciones: continuar el camino que surge frente al puente, de dificil tránsito en invierno, o tomar el de la izquierda, dando un pequeño rodeo. Ambas posibilidades llevan hasta el lugar de A Madalena.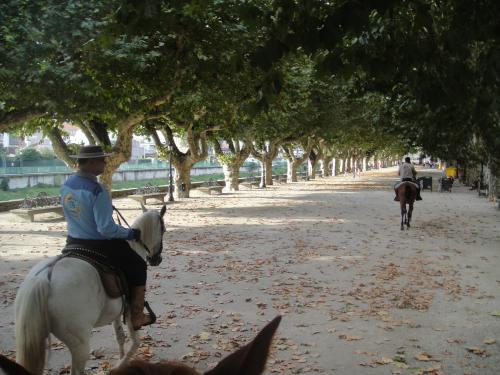 Siguiendo la Vía romana el trazado se incorpora a la N-550, internándose en Redondela a la altura del convento de Vilavella. En Redondela la ruta discurre por el medio de la villa en la cual se encuentra un albergue histórico del siglo XVI denominado 'Casa da Torre' que es uno de los principales del Camino Portugués.
A la salida de Redondela, pasado el puente del ferrocarril, el Camino se introduce en un bosque hacia el pueblo de Soutoxusto. Rodeado de pinos, se desciende por el lugar de Sete fontes para atravesar Arcade, lugar conocido por sus sabrosos mariscos de la ría que podremos degustar.
Después de la mariscada, llegamos al histórico Pontesampaio: el Camino cruza el río Verdugo por el puente, donde, en la Guerra de la Independencia, se produjo una de las mayores derrotas del ejército napoleónico en Galicia, a manos del pueblo armado.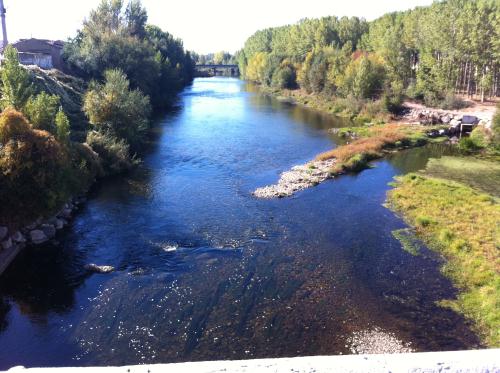 El Camino se acerca a Pontevedra, dejando atrás lugares como Bértola. Después de entrar en la ciudad el Camino conduce de la Peregrina a la inmediatamente a la plaza de Ferreira.
El Camino abandona Pontevedra por la rúa da Santiña. Dejando a la derecha del trazado un reposado castañal, la ruta discurre paralela a la vía del ferrocarril hasta el lugar de Pontecabras, prosiguiendo rumbo hasta alcanzar, entre pinos y eucaliptos, la iglesia y rectoral de Santa María de Alba.
manos del pueblo armado.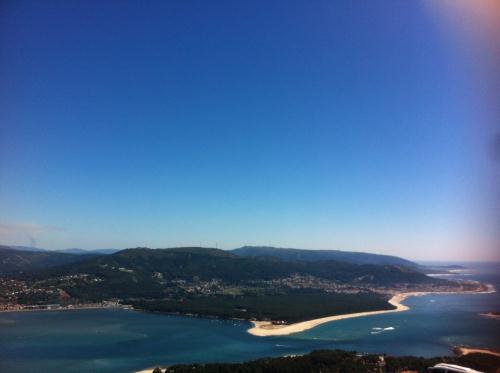 De aquí el camino continúa por los lugares de Casal de Eirixio y O Pino y penetra en bosques profundos que discurren, entre rumor de aguas, próximos a antiguos molinos. A la altura del molino de Solleiros, el Camino gira suavemente hasta llegar a Valga continuando hacia Padrón ya en la provincia de A Coruña.
manos del pueblo armado.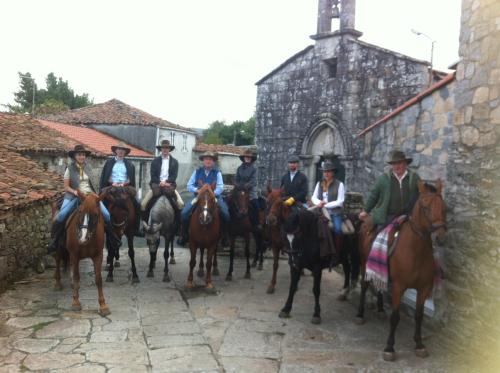 El peregrino puede hacer una pausa y descansar en el Santiaguiño do Monte, lugar que posee un bello mirador, una capilla dedicada a Santiago y un altar con la imagen de Santiago en unas rocas.
Una vez en Santiago el itinerario entra en la plaza de "O Obradoiro", donde se encuentra la fachada principal de la basílica jacobea, cuya entrada conduce al peregrino al Pórtico de la Gloria. Otra posibilidad de acceso al interior basílica -preferida por los peregrinos- es seguir la calle Fonseca, bordeando el ala meridional del claustro, hasta la plaza de As Praterías, donde se sitúa la fachada sur de la catedral.
Después de visitar la catedral y su entorno, les trasladaremos hasta el aeropuerto o estación correspondientes donde acabarán nuestros servicios.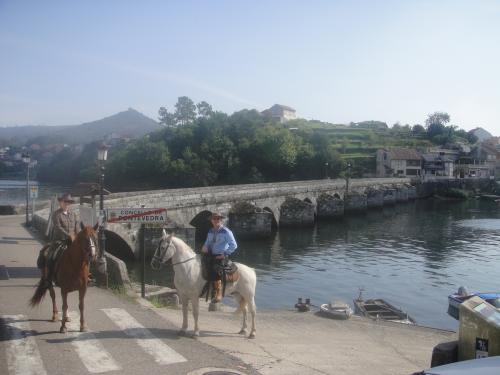 Don't hesitate to contact us for more information.
Telephone: +34 639 503 815
Caminos Galicia Caritel 2 Ponte Caldelas. 36829 Pontevedra
E-Mail: caminosgalicia@hotmail.com