The french route
The French Route on horseback – Historic introduction
The French Route offers the itinerary with the major historic tradition historic and the geatest international reputation. Its line through the north of the iberica peninsula was fixed with precision in 1135 in the Codex Calixtinu : fundamental Saint James book.
This guide, attributed to the french clerical Aymeric Picaud, makes obvious the politico-religious desire,implemented for the Compostela´s sanctuary promotion, and makes easier its access. This book was writted, when the pilgrimages hiting their principal height, and the French Route , it major affluence , excepting the actual period, Santiago converting into the final point for the christian pilgrim.
Itinerary
The French Route enters in Spain after having crossed the Pyrenees, by Roncesvalles (Navarre), meeting the city of Pamplona and joining Puente de la Reina. From Puente de la Reina, the French Route keeps an unique itinerary, which takes the direction of Santiago, and meets places or cities so significant as Estella, Logroño, Burgos, Carrion de los Condes, Sahun, Leon, Astorga, Ponferrada or Villafranca del Bierzo.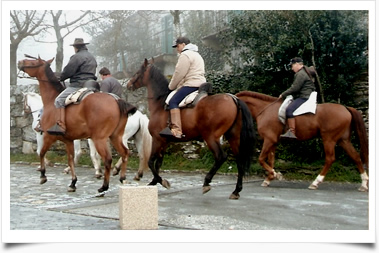 The French Route enters in Galice from el Bierzo going up until the mountain´s port O Cebreiro (1300 m) in Lugo´s province. There is still 152 km to arrive to Santiago.
On the summit of O Cebreiro, we can find the protohistoric traditional village, adapted to the strong climatologic conditions of the High Mountain. This village represents a notable etnographic space, really caracteristic of the north east iberican peninsula.
From O Cebreiro, continuing by the mountain, situated near the sierras of Os Ancares and O Courel, we arrive to Hospital da Condesa and the village called Padornelo.
After reaching the port of O Poio (1337 m) , the point of maximum altitude concerning the French Route in Galicia, we must take the direction of Fonfria. From here, we can enjoy beautiful green panorama until reach Triacastela.
From Triacastela, the pilgrim continues directly until Sarria through old villages having a great Saint James tradition : Balsa, San Xil, Montan, Pintin, Calvor and San Mamede do Camiño; or continues by Samos, wich one offers, pretty landscapes crossing over Sarria´s river or San Cristovo and San Martiño, and also one of the oldest Occident monastery.
The meeting point is Sarria, the most populated locality of the French Route in Galicia with 7 000 h. From here the pilgrim crosses the A Aspera´s bridge, on the way of Barbadelo.Through woods, meadows and ploughings lands we arrive in Paradela.
In the middle of beautiful landscape the Route goes dowm until the Miño´s river. To enter in Portomarin, it is necessary to cross over the bridge buildt at the beginning of the 60´s for passing the Belesar´s dam. There we also can contemplate the ruins of the old Portomarin. Through the Gonzar´s village, the Route continues in the direction of Castromaior, Ventas de Naron Lameiros, belonging already to Monterroso. A little bit before Ligonde, survive notables traditional examples.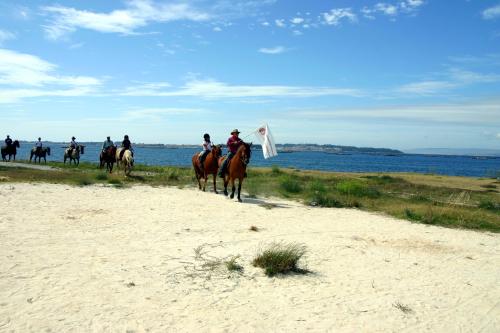 Immediatly after, the Route enters in the lands of Palas de Rei, supposed name of the Royal Palace built near. The Route leaves Palas by Ulloa, famous land, for its delicious cheese between others traditional products. Nearby, taking a little deviation, we arrive at the Pambre´s castle, one of the rare feodal castle of Galicia to be saved from the furie provocated by the " Irmandiños "´s battles. Coming back to the Route, this one makes its entrance in A Coruña´s province, via Leboeira and Furelos, and crosses a immense medieval bridge.
In Melide, considered as the geographic center of Galicia, where we will taste the best galician octopussy, the French Route becomes urban and meets the villages of the Primitive Route. After Melide, Boente, Castañeda and near Arzua, Ribadiso follow.
In Arzua , the French Route recieves the pilgrims proceding from the North . From Arzua, it crosses eupcaliptus, oaks and meadows , circling little villages of Calzada, Salceda, Bea…and Rua, the last being O Pino, before arriving in Santiago. In Santiago, after the Airport, the pilgrim reaches Lavacolla, near Monte do Gozo, a little hill, offering him for the first time, the vision of the Santiago´s cathedral towers far away. We will visit of course the city and its cathedral.
To finish we will accompagny you to the Airport or corresponding station, where our services will finish.
An original option for the French Route: the horsecar .
In Caminos Galicia, we also offer you an alternative for the French Route, to do from Portomarin in 3 stages, each one during one day. In this case we can opt for 2 possibilities: do the Route with the horses or with the horsecar.
Itinerario
El Camino Francés es el itinerario jacobeo con mayor tradición histórica y el más reconocido internacionalmente. Su trazado a través el norte de la Península Ibérica quedó fijado con precisión hacia 1.135 en el Codex Calixtinus, libro fundamental del acervo jacobeo.
Esta guía, atribuida al clérigo francés Aymeric Picaud, evidencia el deseo político­religioso por promocionar el santuario compostelano y facilitar el acceso hasta él, pero también demuestra la existencia de una demanda de este tipo de información. Cuando se confecciona este libro las peregrinaciones alcanzan su máximo apogeo y el Camino Francés la mayor afluencia -si excluimos el momento actual-, Santiago se convierte en meta de peregrinos procedentes de todo el orbe cristiano.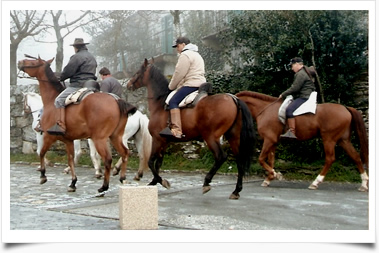 El Camino Francés entra en Galicia desde El Bierzo ascendiendo hasta el puerto de montaña de O Cebreiro (1.300 m), en la provincia de Lugo. Restan 152 kilómetros de Camino para llegar a Santiago de Compostela.
En el alto de O Cebreiro se encuentra la aldea de tradición protohistórica, adaptada a las duras condiciones climáticas de la alta montaña. Este pueblo conforma, además, un relevante espacio etnográfico que tiene su más visible referencia en su conjunto de pallozas muy características del noroeste de la Península Ibérica.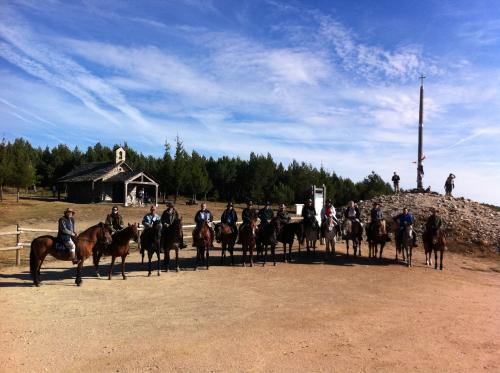 Desde O Cebreiro, continuando por la zona de montaña y por un itinerario abierto a las inmediatas sierras de Os Ancares y O Courel, se llega hasta Hospital da Condesa y próximamente a la aldea de Padornelo.
Después de alcanzar el puerto de O Poio (1.337 m, altura máxima del Camino Francés en Galicia), comienza el suave descenso hacia Fonfría, y desde aquí, entre hermosas y verdes panorámicas, se llega a la localidad de Triacastela.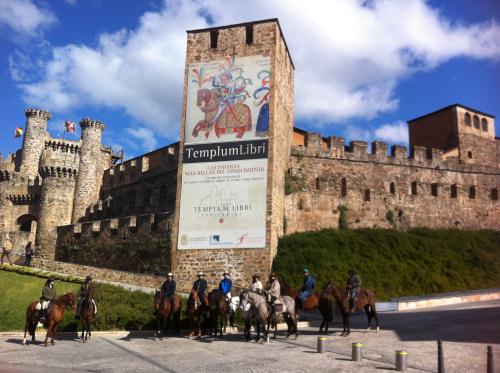 A la salida de Triacastela el Camino se bifurca. Se puede continuar directamente a Sarria a través de una cadena de viejas aldeas de gran tradición jacobea: A Balsa, San XiI, Montán, Pintín, Calvor y San Mamede do Camiño; o bien, por el tramo hacia la localidad de Samos, que ofrece no sólo bellos paisajes que atraviesa el río Sarria y el de aldeas como San Cristovo o San Martiño, sino que también posee un monasterio que está considerado como uno de los más antiguos de Occidente.
Tanto que sigamos el itinerario de Samos como el de San Xil, el lugar de encuentro será Sarria, la localidad más poblada del Camino Francés en Galicia, con más de siete mil habitantes. De aquí el peregrino sales a través del viejo puente de A Áspera, camino de Barbadelo, al que se llega pronto tras cruzar una de las más hermosas "carballeiras" ­-robledal- de la ruta. Cruzando entre continuas masas arbóreas, prados y tierras de labranza, a través de tramos que anuncian vestigios de antiguas calzadas, el Camino entra en el municipio de Paradela.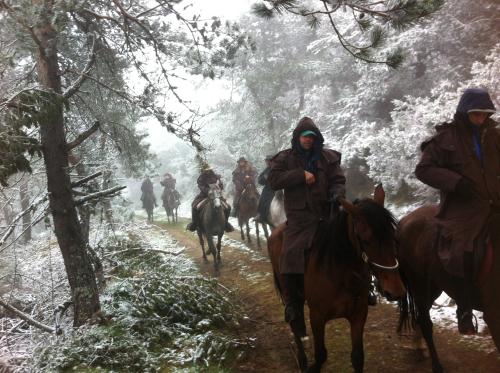 En medio de un paisaje abierto y agradable la ruta desciende ya hasta las riberas del río Miño, en la que se asoman por primera y única vez en el Camino Francés en Galicia las tierras de cultivo de la vid. Para entrar en la localidad de Portomarín es necesario cruzar el puente construido a principios de la década de 1960 para superar el embalse de Belesar, en el Miño. También pueden ser visibles las ruinas del viejo Portomarín, arrasado por las aguas, debido a la construcción del embalse, pese a ser una de las localidades más hermosas y ricas en patrimonio de Galicia. A través de la aldea de Gonzar, el Camino continúa hacia Castromaior, Ventas de Narón y Lameiros, lugar ya del municipio de Monterroso. Algo más adelante, en la localidad de Ligonde perviven relevantes ejemplos de tipologías arquitectónicas tradicionales.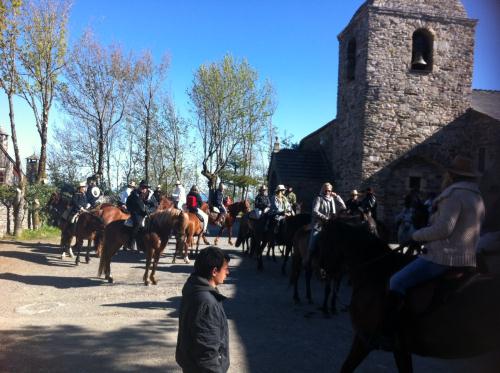 Inmediatamente después, la ruta se interna en tierras de Palas de Rei, municipio que debe su nombre a un supuesto palacio real construido remotamente en sus inmediaciones. El Camino abandona Palas por A Ulloa, tierra de producción láctea y sabrosos quesos, entre otros productos tradicionales. En las proximidades de este tramo, tomando un pequeño desvío, se llega al castillo de Pambre, uno de los pocos castillos feudales gallegos que se salvó de la furia provocada por las luchas de los "Irmandiños". De regreso al Camino, éste inicia ya su recorrido por la provincia de A Coruña, camino de la aldea de Leboeiro y de Furelos, que se cruza por un grandioso puente medieval.
En Melide, localidad considerada el centro geográfico de Galicia, donde podremos tomar el mejor pulpo a la gallega, el Camino Francés se hace urbano y recibe a los peregrinos del Camino Primitivo. La ruta se integra en una población con una intensa identidad histórica jacobea. A continuación de Melide está Boente, Castañeda y próximamente a Arzúa se encuentra Ribadiso.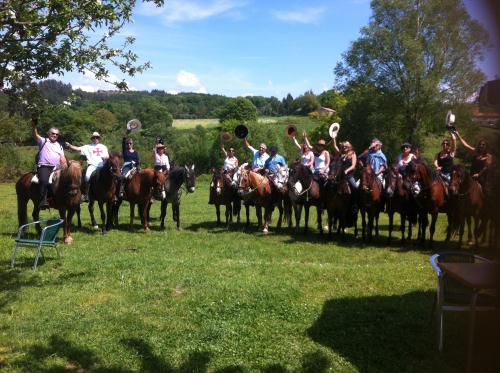 En la villa de Arzúa, famosa por la gran riqueza quesera de la comarca, el Camino Francés recibe a los peregrinos procedentes del Camino del Norte. A partir de Arzúa el Camino se interna de nuevo entre prados, robles y eucaliptos que rodean pequeñas aldeas como: Calzada, Salceda, Brea … y Rúa, esta ya a las puertas del municipio de O Pino, el último antes de Santiago.
Ya en el municipio de Santiago, y después de pasar por las inmediaciones del aeropuerto de la ciudad, el peregrino llega a A Lavacolla, muy próximo al Monte do Gozo, una pequeña elevación desde la cual los peregrinos tienen, por vez primera, la lejana visión de las torres de la catedral de Santiago.
Visitaremos la ciudad de Santiago y la Catedral, por supuesto. Por último les trasladaremos al aeropuerto o estación correspondiente, donde acabaran nuestros servicios.
Una opción original para hacer el Camino Francés: Coche de caballos.
En Caminos Galicia también les ofrecemos la alternativa de hacer el Camino Francés desde Portomarín en tres etapas de un día cada una. En este caso podemos escoger hacer el camino de dos formas: a caballo o en coche de caballos.
Don't hesitate to contact us for more information.
Telephone: +34 639 503 815
Caminos Galicia Caritel 2 Ponte Caldelas. 36829 Pontevedra
E-Mail: caminosgalicia@hotmail.com